Please visit Ryan Parton Writing Solutions, Comox Valley copy writer

Vancouver Island Traverse
Spring/Summer 2005


In May, 2005, Ryan Parton and John Histed attempted a completely human-powered traverse of Vancouver Island, from Campbell River to Tofino. The following are Ryan's reports of the expedition, as published in the Comox Valley Record.


Part One

Part Two

Part Three




Ryan & Johnny's Vancouver Island Traverse, Part One
By Ryan Parton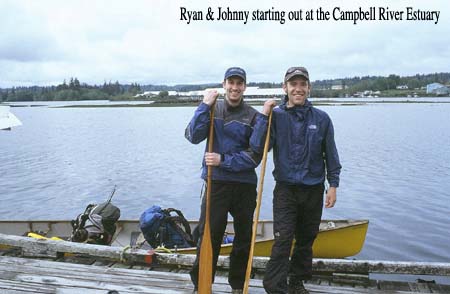 Like most misadventures, ours started with a noble plan - to cross Vancouver Island from east to west entirely under our own power. Starting in Campbell River, we'd either paddle or carry a canoe for 100 kilometres, then hike for 40 more before hopping into a sea kayak for the last 100 kilometres to Tofino, via Hot Springs Cove. If all went well, the trip would take 10 days.

After a week of frenzied planning and organizing, we finally dipped our canoe into the Campbell River estuary under a friendly grey sky, eager to begin our adventure. The expedition was the brainchild of my companion, John Histed. An avid outdoorsman whose mantra is "Seek out the hard way," John could always be counted on to have some zany plan in the works, like throwing ourselves down some unknown river in a rubber dinghy or portaging a canoe five kilometres up General Hill, the daunting climb out of Campbell River along the Gold River Highway. But that was yet to come.

Our first test was the Campbell River itself. The slight current that made paddling a touch more difficult at the mouth of the river quickly became a rushing torrent of shallow water as we fought our way upstream. With John in the stern barking out orders in a frantic effort to keep ourselves facing forward, and myself desperately trying to find a path through the labyrinth of rocks just below the water's turbulent surface, our progress was slowed to little more than a standstill, despite both of us paddling beyond the limits of our aching shoulders. When the water became too shallow we quickly flipped our paddles and pushed the handles against the rocks below, in which manner we were able to continue our painstakingly slow progress ascent.

Although we'd planned to paddle in this manner until the third bridge spanning the river, we opted to cut our river journey short about 150 metres from that landmark, deciding it would be easier to carry the canoe on dry land than continue our desperate uphill paddle. All-to-ready to escape the exhausting wrath of the current, we hauled our vessel ashore and, after a brief lunch of energy bars and trail mix, hoisted it over our heads and began our first portage.

With the canoe's seats resting atop our overstuffed backpacks, we trudged along the paved shoulder of the Gold River Highway, belting out off-key Stompin' Tom tunes to keep our minds off the growing pain in our legs. I'm thankful, in hindsight, that the bow of the canoe obscured my vision beyond a four-foot radius around my feet, for the sight of the seemingly endless hill ahead of us would have surely been a morale killer. Once exhaustion silenced our unfortunate rendition of the Hockey Song, it was all we could do to put one foot in front of the other. Again. And again. And again.

I was surprised that the sight of two men with full backpacks hauling a canoe along the side of the highway didn't attract more attention from passing motorists. One old man standing alone on the side of the road for no discernible reason, however, seemed utterly perplexed.

"Where are you going?" he asked when we were close enough to hear.

"Tofino!" was John's proud reply, and although I couldn't see him I knew that he was wearing a grin a mile wide, having wanted to say that since our trip began.
I raised the canoe over my head just enough to see the man's expression turn to one of complete confusion. Finally, after carefully analyzing his mental map, he looked up and screamed, "You're going the wrong way!"
Nearly two hours after beginning our portage, we finally arrived at the turnoff toward the 25-metre Elk Falls, which tumbles spectacularly into a narrow gorge along the Campbell River. The river is dammed just upstream from the falls at John Hart Lake, Campbell River's water supply and our next paddling destination. Sweating and exhausted, and aching in places I never knew existed, we turned away from the falls' lookout point and headed up a gravel logging road, then carried our canoe through the forest to the lake's muddy bank.
The first milestone of our trip, the grueling General Hill portage, under our belts, we were keen to get back in the water and continue our quest. Ahead of us lay four more lakes to traverse by canoe, including the notoriously fickle-tempered, 32-kilometre long Buttle Lake, before setting out on foot to the west coast.
Gliding silently over an underwater field of massive stumps flooded by the nearby John Hart dam, we paddled out onto the calm, beckoning waters of the lake.
To be continued...
Ryan and John would like to thank Valhalla Pure Outfitters and Comox Valley Kayaks for graciously supporting their expedition.


Go To Part Two

Home