Please visit Ryan Parton Writing Solutions, Comox Valley copy writer

Vancouver Island Traverse
Spring/Summer 2005


In May, 2005, Ryan Parton and John Histed attempted a completely human-powered traverse of Vancouver Island, from Campbell River to Tofino. The following are Ryan's reports of the expedition, as published in the Comox Valley Record.


Part One

Part Two

Part Three




Ryan & Johnny's Vancouver Island Traverse, Part Three
By Ryan Parton

Make a bad decision at the grocery store and you may discover that "low in fat, low in sugar" often means "low in flavour." Make a bad decision at work and you might get reprimanded for wearing your old Motley Crü t-shirt on casual Friday. Make a bad decision in the bush, and you could die. John Histed and I, facing a possible food shortage and surrounded by snowy wilderness in the middle of Vancouver Island, had a decision to make.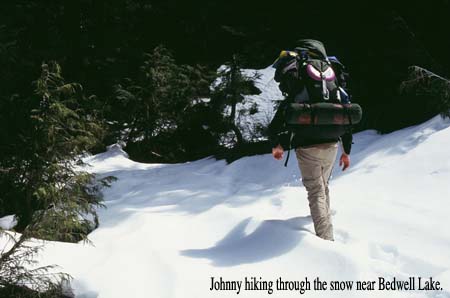 Earlier that day we'd donned our backpacks and set out on foot from the south end of Buttle Lake along an old mining road littered with black bear droppings. The road eventually led us to the Bedwell Lake Trail, a well-maintained 6-kilometre path that gains 600 metres in elevation as it winds its way toward Bedwell Lake. From there, our plan was to follow the Bedwell River Valley out to the west coast, where we'd continue by kayak to Tofino, thus completing the human-powered traverse of Vancouver Island that we'd begun five days earlier in Campbell River.
As we climbed, snow began to appear alongside the trail in sporadic clumps which gradually grew larger and deeper, until there was little bare earth to be seen. Trudging through the snow, at times falling through to our knees, our progress became painstakingly slow and the trail became all but impossible to follow. We began to regret our decision back at Buttle Lake not to bring along our snowshoes.
At the end of our exhausting first day of hiking, we'd made it only to Bedwell Lake, several kilometres short of where we'd hoped to make camp. Now it was decision time.
We'd originally expected the hike to the coast to take two days, although we now realized it would take three. Since we were carrying an extra day's worth of food, a third day on the trail wouldn't be a problem in itself. What made us nervous were two potentially dangerous river crossings we'd have to make further along, across You Creek and the Bedwell River itself. In times of low water, which we'd expected these times would be due to the previous winter's shocking lack of snow, You Creek should have been running about waist-high, making for a tricky, but possible, crossing. Judging by all the snow at Bedwell Lake, however, the majority of which hadn't fallen until late April after we'd already committed to an early May departure, we were afraid one or both of the rivers would be too dangerous to cross.
Here's where the math comes in: You Creek was still a day's hike away, so if we got there and couldn't cross, it would mean another two days back to Buttle Lake and civilization, making four days in total, or a full day more than what we had food for. It was a difficult decision, especially without seeing the rivers themselves, but it was one that John and I had to make. We turned back. Back in Courtenay our friend Chris, who's been a Search and Rescue volunteer for almost three years, did his best to reassure us that we made the right choice.
"When you're tired, decisions start to become a bit more hastily made, but you did your homework on the route, which is an excellent thing to do," he said, advice that's universally applicable to anyone venturing out into the back country. "You thought about water levels, you knew you had to cross some rivers and you know what? You got up there, you made good decisions at good times and you got back nice and safe."
The rugged wilderness with which we've been blessed here on Vancouver Island is a wonderful place, but it's no place to let pride get in the way of prudent decisions. Far from discouraging us, our setback at Bedwell Lake has only strengthened our resolve. John and I are both determined that one day before summer is out, we'll return to Bedwell Lake and complete our 240-kilometre journey to Tofino.
John and Ryan would like to thank Valhalla Pure Outfitters and Comox Valley Kayaks for graciously supporting their expedition.


Back to Part One
Home