Please visit Ryan Parton Writing Solutions, Comox Valley copy writer

The following are stories written for the Selkirk Journal and the Comox Valley Record during my 11-month bicycle expedition through South America, from January to November, 2004:

Border Bound (a pre-trip introduction)
Against the Wind Through Tierra del Fuego
Hurry Up and Slow Down (cycling in Patagonia)
Chugging Through Chile (cycling Chile's Carretera Austral)
Argentina a Lot Like Canada (crossing the Argentina pampas)
South America's Hidden Gem (travels in Uruguay)
The Bolivian Paradox
Pushing Through Peru (misadventures on a Peruvian riverboat)
Jungle Journey a Drag (cycling the Brazilian Amazon
Grand Finale (cycling Venezuela)

Back to my writing samples
Back to Atravesando Fronteras home page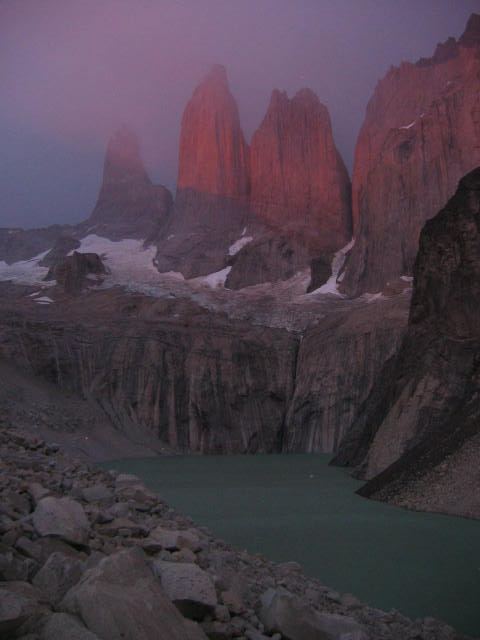 Hurry Up and Slow Down
by Ryan Parton

erhaps the hardest part about cycling thorugh southern Patagonia is that it's impossible to get anywhere quickly. Not only are the distances vast, measured in days rather than kilometres, but there are just too many amazing things to see and do along the way.

After successfully fighting our way against the raging winds of Tierra del Fuego, my two Vancouver-bred cycling mates and I headed north from the pleasant city of Punta Arenas, in southern Chile, to the seaside town of Puerto Natales, in slightly less southern Chile.

While Puerto Natales is not an entirely unattractive town in itself, the real reason it's on any tourist's radar is its close proximity to the crown jewel of Chilean Patagonia, Torres del Paine National Park.

The park is a backpacker's Mecca, 450,000 acres of shimmering glaciers, impossibly aquamarine lakes and a nearly unrivalled concentration of natural beauty.

We spent six days hiking in the park before reloading our bikes and continuing northward, back toward Argentina. Only a few hours later, however, we couldn't resist a detour to the Cueva del Milodon, a huge cavern of conglomorate rock where, in 1895, the discovery of the bones and skin of a mylodon prompted a search for living specimens of the prehistoric beast, although none was ever found.

It was around the Cueva del Milodon that my friends suffered their first of a series of breakdowns to their custom-built tandem touring bike. While they returned to Puerto Natales to replace a sheared cogset, I continued solo toard the Argentine border, where I was made the subject of several photographs by the passengers of a waiting tour bus. I was now back in the flat pampas with which I'd ebcome intimately familiar in the wilds of Tierra del Fuego, but what a difference a tailwind can make in your impression of a place! The same landscape that I'd found boring and monotonous while fighting the Fuegian wind was suddenly beautiful; the bright blue-grey sky, with lenticular clouds hovering like UFOs over the grasslands below, reminded me of myManitoba home.

I made it to El Calafate, on the shores of Lago Argentina, in three days and waited for my friends to arrive and complain of more breakdowns en route. Hearing of my trials made me thankful that my Trek 4300, a solid entry-level mountain bike, has thus far performed without a hitch.

El Calafate seems a town on its way to becoming an Argentine Banff, a base for exploration of the nearby glaciers and lakes, and with a well-kept main avenue crowded with shops catering to the tourists who arrive by the busload. The town has a way to go, however, for I needed only to stray four blocks off the main drag to find a decrepid playground surrounded by barbed wire, a severed horse leg lying at the foot of the jungle gym.

Equine appendages notwithstanding, the highlight of a visit to El Calafate is the nearby Moreno Glacier, a stunning, 60-metre high river of ice that creaks, groans and calves massive icebergs into the lake below. The glacier is part of the Southern Patagonian Icefield, which stretches some 500 kilometres northward and constitutes the world's third-largest reserve of frozed fresh water.

We enjoyed a week of comfort in and around El Calafate before leaving to endure four days of grueling cycling, during which the weather and roads conspired to see which could slow us down the most.

We arrived tired and hungry in the tiny, laid-back town of El Chalten, a climber's paradise that lies in the shadows of Mount Fitz Roy and is surrounded by towering rock walls.

On our first full day in El Chalten we somehow found ourselves entered in a mountain bike race around town, and surprised ourselves by finishing second and third, behind a fellow bike tourist form Barcelona. We rewarded ourselves with a night of dancing at the favourite local watering hole, followed by three days of hiking amidst the beautiful mountain scenery of Los Glaciares National Park, in which El Chalten is located.

In the past 29 days we've cycled little more than 750 kilometres, well below our projected average of 50 kilometres per day, but none of us has any regrets. Over the past months we've had some amazing experiences in some of the most breathtaking spots in the world, and we figure it will only get better as we continue our journey through this wonderfully diverse continent.

Next
Previous
Border Bound (a pre-trip introduction)
Against the Wind Through Tierra del Fuego
Hurry Up and Slow Down (cycling in Patagonia)
Chugging Through Chile (cycling Chile's Carretera Austral)
Argentina a Lot Like Canada (crossing the Argentina pampas)
South America's Hidden Gem (travels in Uruguay)
The Bolivian Paradox
Pushing Through Peru (misadventures on a Peruvian riverboat)
Jungle Journey a Drag (cycling the Brazilian Amazon
Grand Finale (cycling Venezuela)
Back to my writing samples
Back to Atravesando Fronteras home page