Please visit Ryan Parton Writing Solutions, Comox Valley copy writer

Vancouver Island Traverse
Spring/Summer 2005


In May, 2005, Ryan Parton and John Histed attempted a completely human-powered traverse of Vancouver Island, from Campbell River to Tofino. The following are Ryan's reports of the expedition, as published in the Comox Valley Record.


Part One

Part Two

Part Three




Ryan & Johnny's Vancouver Island Traverse, Part Two
By Ryan Parton
I'd always wanted to go on a canoe trip. There's a certain romantic serenity in dipping your paddle into the glassy surface of a tranquil lake, with only the liquid rhythm of each stroke disturbing the silence. Having begun our human-powered traverse of Vancouver Island by fighting the swift current of the Campbell River and hiking our canoe up a grueling 6-kilometre hill to John Hart Lake, it was now finally time to enjoy this long-awaited solace.

The surface of John Hart Lake, just west of Campbell River and that city's water source, was crystalline as John Histed and I paddled over the hulking stumps of what was once an extension of the forested shore, flooded in 1947 by the completion of the John Hart Dam. As we glided silently over these ancient behemoths I got the eerie feeling that we were paddling over a graveyard, each tomb preserved impeccably by the still water.

Although we'd planned to pitch camp on one of the tiny islands dotting the lake, we were making such good time, and were so invigorated by the energy of the great outdoors, that we kept on paddling, until before we knew it we'd reached John Hart's western extreme. Here, the lake angles southward and narrows once again into the Campbell River on its way upstream to Lower Campbell Lake. The gentle current against us was offset by the stunning scenery; towering trees sprawling right down to the rocky shore and what appeared to be the top of a submerged mountain range just beneath the water's transparent surface.

Our journey through this scenic gorge terminated at the Ladore Dam, which we bypassed by means of a quick portage. With the sun falling ever lower ahead of us, we continued out onto Lower Campbell Lake, scanning the shoreline for suitable campsites as we paddled. We'd seen many alongside John Hart Lake, but all the suitable spots here had been gobbled up by private cabins, and we were forced to find shelter on a narrow rocky beach on the edge of an ugly clear-cut. A Technicolor dusk over the lake and some gourmet eats, courtesy of our friends at Valhalla Pure and better than anything either of us would have cooked up at home, helped take our minds off the decaying absence of trees behind our tent.
The next morning we ate a quick oatmeal breakfast and once again set out onto the lake, where we proceeded to paddle more than 30 kilometres across two lakes, Lower Campbell and Upper Campbell, to the top of Buttle Lake.
A full day on the water can have strange effects on two men alone in a canoe. Over the course of the day we tested a new mating call based on that of local frogs ("Boy! Boy!"); conversed with some chatty Canada geese ("mmmAAAWK!"); and temporarily became marauding pirates menacing anyone on shore until they were within earshot ("Gaar, yer women or yer lives!") In between, we crafted the legend of Bernie, the soon-to-be-famous (if we have anything to do with it) Upper Campbell Lake monster. Ol' Bernie's 18 feet long if he's an inch, he can swim or simply walk along the lake's bottom and, though he can't fly, I'll be darned if he can't jump right out of the lake and pick off birds in mid flight. Sanity, like beauty, is often in the eyes of the beholder, and luckily for us there was rarely anyone else around.
Our third day of paddling began at the northern end of Buttle Lake, a narrow, 32-kilometre long lake infamous for the southerly afternoon winds that can whip its surface into a dangerous froth of white caps. Almost as if on cue, our gentle morning headwind picked up after lunch, sending nearly foot-high waves sloshing against our hull. This made life difficult for John, who was astern trying to keep our bow facing the onslaught while at he same time trying to hug the rocky shore in case conditions worsened. Fortunately, little more than an hour after the white caps first appeared, the wind calmed and the lake became eerily glassy.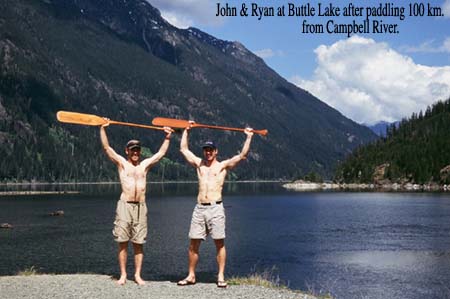 Though we had to selectively look at the forested hills hanging on either side of us to ignore the clear-cuts slashed seemingly at random into the thick green carpet, the landscape was not without its rugged natural beauty. A thick mist hugged the hills and hazy, snowcapped crags loomed ahead in the distance, creating the impression that we really were paddling into the unknown.
On dry land at Buttle Lake's southern terminus, we bid farewell to our faithful yellow canoe, which was picked up by a friend, and briefly celebrated the completion of the first portion of our expedition. From here we would continue on foot to the west coast of the island, where we'd jump into a kayak for the final leg of our 240-kilometre journey to Tofino.
To be continued...
John and Ryan would like to thank Valhalla Pure Outfitters and Comox Valley Kayaks for graciously supporting their expedition.


Go To Part Three

Home